With the use of Intergraph's design software, (Cadworx), Vepica reduced man hours by 15% in the design of the 25,000 bpd fractionation facility for an ADU distillation unit in Houston, Texas.
This project carried out by Vepica, managed a 13 month accelerated program, which ranged from Extended Basic Engineering (FEED) to mechanical completion. The FEED was carried out by the work group at the Houston office and Detail Engineering was executed in Workshare mode.
Workshare Mode
The Detail Engineering for the fractionation plant facilities located in Houston (Texas) was carried out in a multi-office system, involving the Vepica teams of the United States, Venezuela and personnel from the Edoxx company in Colombia.
The project, for the most part, was coordinated from the Vepica office in Houston, allowing direct contact with the client. A high level of coordination was required to overcome the difficulties of working remotely and to keep the whole team working on the same updated database.
This work scheme reduced project costs and optimized the execution schedule by implementing a concurrent execution plan instead of the traditional sequential plan.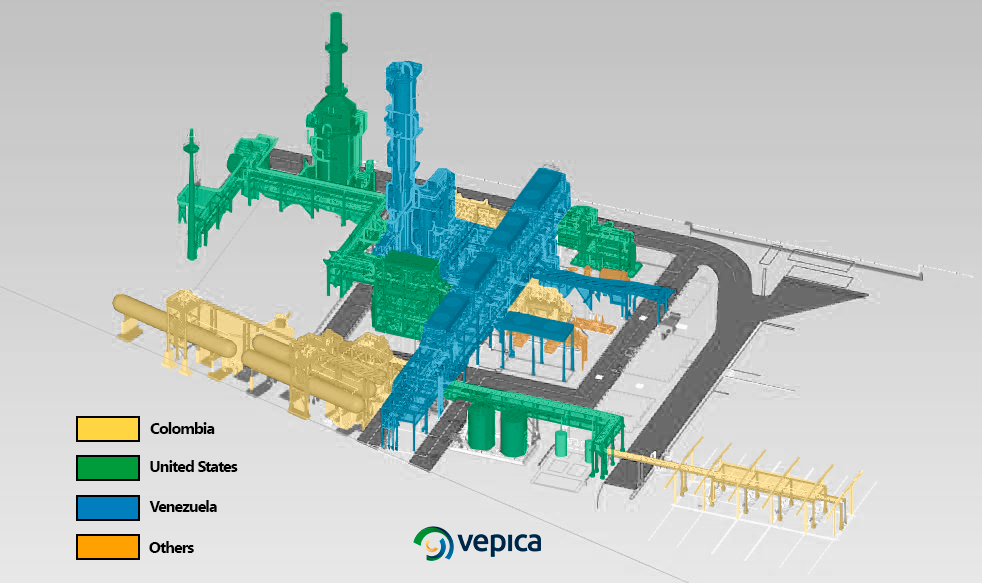 The Caracas team (Venezuela) was responsible for centralizing the design information, which was updated daily using the Cadworx Design Review visualization tool. Constant communication between the different offices and the division of work in modular skid design, facilitated the design work, reducing by 15% the man-hours estimated for the project's completion.
With Cadworx Plant each office worked on the project from a local server. The Caracas office synchronized all the design information in a central server where the 3D model was generated. Thanks to the design tools, with Isogen, Vepica was able to produce pipe isometrics automatically.
Working hand in hand with the client was another key to the success of this project; monitoring information and expediting the review and approval of technical documents, keeping the project integrated, standardized and focused on the objectives.