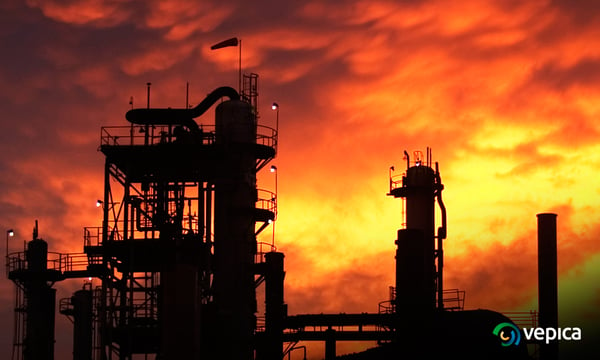 The downstream oil sector involves the refining of crude oil and the sale and distribution of natural gas and products derived from crude oil. Over the last ten years, Vepica has developed and executed the following projects in this sector:
PROJECT NAME: Davis Refinery North Dakota
CLIENT: Meridian Energy Group
SCOPE: Engineering studies
HIGHLIGHTS: Engineering studies to define the design basis, costs and schedule for the Davis Refinery, a high-conversion crude oil refinery to be constructed in southwestern North Dakota to serve Bakken crude oil producers and local liquid fuels and chemicals markets. Upon completion of these studies, Meridian, with BASIC's and Vepica's support, will complete the permitting and approval requirements, finalize full project financing, and make final announcements regarding the commencement of detailed design, procurement, construction and start-up of the Davis Refinery
Completed in 2015
PROJECT NAME: Crude Fractionation Facilities
CLIENT: Petromax Ref. – Sunoco Logistics
SCOPE: Basic Engineering / Detail Engineering
HIGHLIGHTS: Project scope included the design of new Crude Fractionation facilities to process 25,000 BSPD of light crude (API 38.2° or API 45.8°). The facilities will handle single crude streams or a combination of these two feedstock mixed at any ratio.
Fractionation facilities consisted of an Atmospheric Distillation Unit (ADU) designed to process 25,000 BSPD and to provide products run to storage facilities, along with the utilities required to support the proper and safe operation of the process systems.
Completed in 2015
PROJECT NAME: Technical assistance for El Palito Refinery
CLIENT: PDVSA
SCOPE: Technical assistance services
HIGHLIGHTS: Technical assistance services in all disciplines for El Palito Refinery included:
Compressed air Merox process for olefins and gasoline Merox units.

Update safety relief valves (for the end of 2009 plant maintenance)

Cathodic protection system

Assistance in detail engineering for power plants La Cabrera and El Palito

Operations control room and storage facilities for diesel power generators (8 units for a total of 15 MW)

Improvements in warehouses, roads and parking lighting admitted. Section Q.

Improved rainwater drains

Installation of two boilers

Access to marine terminal

Extension CCTV systems, ACS and SDI

Technical assistance for various social projects developed by PDVSA in neighboring communities (clinical, sports facilities, urban planning).
Completed in 2011
PROJECT NAME: Santa Inés Refinery
CLIENT: PDVSA
SCOPE: Conceptual and basic engineering
HIGHLIGHTS: The refinery will have a 60,000 BPSD capacity for processing Guafita crude (24 - 28.8 °API) for the production of gasoline (regular and premium), diesel, jet fuel (A-1), LPG, fuel oil and asphalt. The new refinery will be located in Barinas State, Venezuela.
Vepica's scope covers the following facilities:
Asphalt production

Sour Water Stripper:

Amines plant

Utilities: raw water supply and treatment, compressed air (services and instruments), N2 system, storage facilities, dispatch facilities, firefighting System, chemicals injection Package.

Electric system: electric facilities buildings, grounding, lightning protection, lighting.

All buildings

Route study, ports and transport

Crude oil pipelines and gas pipelines

Water and sewage pipelines

Electrical ducts
Completed in 2010
PROJECT NAME: Deep Conversion Puerto La Cruz Refinery
CLIENT: PDVSA
SCOPE: FEED, detailed engineering, procurement management, construction management, start-up assistance
HIGHLIGHTS: The project's objective is to increase the Refinery's capacity to process heavy and extra heavy oils from the Orinoco Oil Belt, using PDVSA/ INTEVEP HDHPLUS / SHP proprietary technology.
This will be achieved through the revamp of two atmospheric distillation units (DA-1 y DA-2) in order to process 170 MBD of Merey heavy crude (16º.API). The project includes new process units, utilities and off-sites:
Vacuum distillation: 117,000 BPSD (total for 2 trains)

HDHPLUS ® 50,000 BPSD (total for 2 trains)

SHP: 100,000 BPSD (total for 2 trains)

Additional production: 127 TPD

Residue process / flakes solidification 554 TPD

(total for two trains)

Gas recovery: 36,741 BPSD

Hydrogen production:230 MMSCFD

Hydrogen recovery: 122 MMSCFD

Hydrogen compression: 314 MMSCFD

Sour water stripper: 1,553 GPM

Amine regeneration: 1,573 GPM

Sulfur Recovery & Tail Gas Treatment: 426 TPD
Completed in 2010
PROJECT NAME: El Palito Refinery Expansion Project
CLIENT: Y&V Ingeniería / PDVSA
SCOPE: Procurement, detailed and basic engineering
HIGHLIGHTS: Capacity improvement to 140,000 bbl/d. Revamp and installation of the following units:
Atmospheric distillation units revamp to process an increased volume of heavy and extra heavy oil, consisting in a 22o API mixture formed by Mesa 30 and Merey 16

New Naphtha Hydrotreating Unit to reduce the S and N2 content to 0.5 ppm max

New CCR Unit (Fluidized Catalytic Reforming Unit) for naphtha reforming, improving the RON Number to 100 as a minimum

The Distillates Treatment Plant involves a new Diesel Hydrotreating Unit for cetane No. improvement to 51 and S reduction to max. 7 ppm.wt

Deep Conversion Plant: new HDHPLUS/SHP plant for Hydroconvertion and Hydrotreating to transform the vacuum residue in commercial products and to produce a VGO
Completed in 2010
To find out more about our projects and the services we offer, contact mary.rodriguez@vepica.com