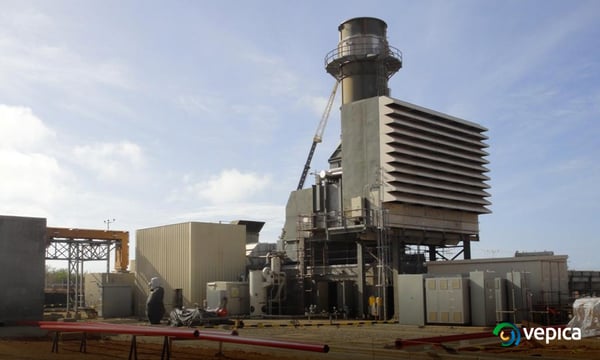 Between 2010 and 2012, Vepica executed the Basic and Detail Engineering for the installation of two (2) turbo generating units belonging to the "Generation and Transportation Expansion Project on Margarita Island in Nueva Esparta State".
Vepica's scope for this project consisted in the installation of two General Electric turbines model GE-MS7001EA, each with a capacity of 85.4 MW (ISO), working in Simple Cycle and initially operated with liquid fuel. Future gas operation forecasts where taken into consideration during the design in the Basic Engineering phase, and for an 80 MW steam turbine connected in Combined Cycle, to reach 250 MW.
The project also required Vepica to participate in the execution of the necessary infrastructure works for the Plant: ground movement, drainage, foundations, control room, warehouse, workshops, guardhouses and systems for water supply and treatment, firefighting, compressed air supply and electricity.
Challenges
-The project was developed in fastrack mode, requiring significant flexibility in order to be able to satisfy the client's needs
- Frequent changes during the design stage to adapt the engineering to the availability of materials and equipment on the market.
Vepica Solutions
-Several teams were allocated to work simultaneously on the design of specific areas and other project activities during the procurement and construction.
- Qualified professionals and technical solutions were allocated, according to the project's needs.
-The project was executed in "Workshare" mode, coordinated from Caracas, with activities and technical expertise divided between Vepica's offices in Maracaibo and Houston.
-3D models were used to minimize interference and for training plant operators during the construction stage.
Environmental studies
As part of Vepica solutions, the environmental discipline contributed with the existing environmental impact assessment, to adapt it to the recommendations made by the Ministry of the Environment. The main tasks performed included an environmental noise baseline, marine characterization, a cooling water discharge simulation and support for the engineering team in a public audience with regional stakeholders.