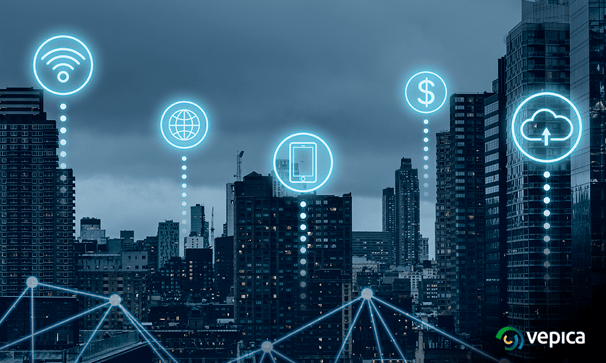 The pandemic has accelerated the digitization process worldwide in all kinds of companies, from large corporations to medium and small businesses.
With 2022 under way, we can safely conclude that digital transformation is not a temporary process, nor is it exclusive to IT-related businesses. It is a disruption in the way a large number of companies in the world are operating.
Its purpose is to transform several different business processes into a digital format through the use of modern technologies. The main challenge of it is to ensure that this cultural change in the way of operating is achieved at all levels of the organization.
Digital transformation has a direct and positive impact on the productivity and competitiveness of companies, while also allowing the improvement of the processes and systems on which their activities are based, making them more agile and efficient. Furthermore, it creates an environment that fosters innovation and provides trust and added value to customers and other stakeholders.
The following aspects are key to undertake the digital transformation:
Define a strategy that includes the selection and evaluation of technologies adjusted to the company's core processes, in order to optimize them and increase their efficiency.

Work as a team and maintain assertive internal communication that guarantees quick responses to the proposed scenarios.

Train staff in the use of new technologies and ensure proper treatment and analysis of data to achieve process efficiency and facilitate decision making.
It is of utmost importance that each company, based on its own strategic plan, evaluates and selects the technology that best suits the services it offers, some of which are listed below:
Cloud migration.

Internet of Things (IoT).

Process automation.

Adaptation to the online environment and mobile platforms.

Big Data.

Machine Learning.
Innovative solutions for a sustainable world
The Digital Europe Programme 2021-2027 of the European Commission declares that multiple innovative solutions that have emerged with the digitization already involve society as a whole:
"In the context of digital transformation in all areas of society, which affects the daily life of citizens, investments in digital infrastructures are key to improving and modernizing the interaction between administration and citizens, for the sake of future prosperity".
It is safe to imply that this "future prosperity" is directly linked to environmental, social and economical sustainability, hence digital transformation is one of the ways to achieve it and requires the implementation of clear goals and objectives beforehand.
With an adequate selection and use of digital technology, more efficient processes can be achieved that not only favor productivity and competitiveness, but also positively impact the socio-environmental conditions on a local, regional and global level.
Representatives of the Indra and Repsol corporations express their opinion regarding the technology-sustainability fusion:
"These are not philosophical or theoretical issues, but rather they affect our income; our financing; our R&D; and the link between our professionals and the company's goal. Technology is a very powerful weapon, able to transform the impact of economic activity into a positive one". Manuel Ausaverri, Director of Strategy and Sustainability at Indra.
(1) Indra: Spanish multinational company that offers consulting services on transport, defense, energy, telecommunications and finance. Rated World Leader in Sustainability by the Dow Jones Sustainability Index and "Gold Class" by S&P Global.
"We see digitization as a lever that goes along with a more sustainable business. At Repsol, of the 280 ongoing initiatives we have, 60% have an impact on emission reduction". Valero Marín, Corporate Director of Digitization and Global Services at Repsol.
In a technological setting, cloud migration holds a particular value, not only beneficial as a place to store and exchange documents, but also as a resource for online work, using efficient mechanisms that can improve the expected results. Different professionals can access remotely, at any time and from distant places to contribute to the processes and/or projects, favoring a more collaborative work.
Based on the CO2 reduction that can be achieved with cloud migration, specific data on the impact that said technology generates on climate change can be found in the 2020 report made by the company Accenture (2), The Green Behind the Cloud.
(2) Accenture: A global professional services company with leading capabilities in digital, cloud and security.
The document points out that migration to the cloud can reduce carbon emissions by over 84% compared to conventional infrastructure, and this percentage can be increased up to 98% by designing specific applications for the cloud.
It also mentions that the migration to public cloud computing models can reduce information technology emissions by 5.9%, equivalent to 60 million tons of carbon dioxide globally per year.
This analysis was performed using data obtained from public cloud migration projects of hundreds of customers around the world. The positive impact on the carbon footprint, as illustrated by the report, is equivalent to removing 22 million cars from circulation.
Furthermore, through the use of sensors, smart meters, algorithms and communication networks, the Internet of Things (IoT) promotes efficiency and responsible consumption of energy, water and raw materials. It also has a positive impact on waste management, emergency management, among others, contributing to the Sustainable Development Goals (SDG), thus favoring the preservation of natural capital. Smart agriculture, digital health, smart water management, smart electricity grids, smart cities, Industry 4.0 and smart companies, among others, are already considered in the public policies and strategic planning of companies in many countries around the world.
Businesses' adaptation to an online environment and implementation of mobile platforms such as Zoom, Google Meet, Microsoft Teams, Asana, Skype, and-so-on, allow them to obtain information, accomplish work, and keep in touch with clients and interested parties at any time, from different devices.
The benefits generated on sustainability by the interconnection between homes and businesses have two decisive positive impacts: reduction of road mobility and, consequently, of Greenhouse gases (GHG) associated with means of transport that use fuels from non-renewable sources, along with a reduced consumption of raw materials such as paper, water and fossil fuels.
The pandemic has accelerated the digitization process and there is no turning back. Companies that bet on sustainable growth must move forward with digital transformation, otherwise they risk losing opportunities that the digital economy offers to remain relevant after the COVID-19 era.


VEPICA is committed to keep growing, and is therefore on the path of Sustainable Digital Transformation.


References:
Accenture. The Green Behind the Cloud (2020)

https://elpais.com/sociedad/2021-04-22/teletrabajo-una-oportunidad-para-un-futuro-mas-verde.html

https://energiahoy.com/2021/05/06/sostenibilidad-y-transformacion-digital-para-impulsar-modelos-competitivos/

https://www.hrconnect.cl/tendencias/la-nueva-normalidad-digital-llego-para-quedarse/
For more information on the subject, please contact Ninoska Cilento: ninoska.cilento@vepica.com