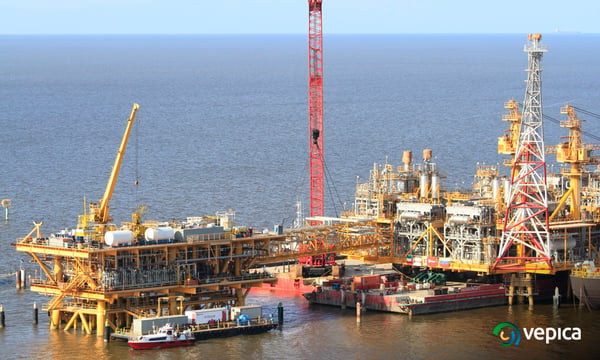 Offshore construction encompasses a broad spectrum of facilities. This type of construction offers a variety of benefits such as improved efficiency, both in the construction process and transportation; location, by installing the platform closer to the client's area of interest; cooling equipment, quick and easy access to seawater facilitates this process and optimizes the platform's functionality; job offers and minor environmental impact.Vepica, with over 47 years of engineering experience, has developed the following projects for the offshore market:
Corocoro Phase 1
Offshore facilities for handling 70 MBPD of crude oil, 32 MMSCFD of gas for reinjection, 5 MMSCFD for gas lift, 90 MBPD of water for reinjection, in a highly, environmentally sensitive area.
EPMS: Basic and Detailed Engineering of the bridge and marine pipelines.
Procurement support. Load-out and transportation analysis

Technical support for some areas of the project
WHP: Basic and Detailed Engineering for the production platform
Procurement support

Load-out and transportation analysis

Technical support for some areas of the project
GACE Project - Güajira Peninsula
Engineering services for offshore and onshore gas production facilities:
Basic design (BD) for the revamp of Chuchupa A and B production platforms to handle the total production with the addition of new gas wells and subsea gas pipelines

Conceptual design of subsea pipelines between both platforms

Basic Design of Ballena gathering station, including a new dehydration unit

Class III cost estimate for the revamping of the lines and facilities

Conceptual study of different options for the compression of gas volumes between 300 and 1,200 psig. Definition of the compression system through the evaluation of different types of engines and locations (close to the coast or on-shore) with a class II cost estimate

Utilities evaluation for each of the on-shore facilities for future requirements

Environmental, Health and Safety studies required to obtain the environmental permits for the project
Water Injection Facilities/SIMCO
BOOT contract for water treatment and injection @3000 psig in oil wells distributed over Maracaibo Lake. It includes: 15 existing water injection platforms, two existing onshore water treatment plants and 5 new water treatment and Injection platforms, telecommunication system, SCADA system for monitoring all facilities and 260 oil wells.
Vepica was in charge of the engineering, procurement services and construction assistance for the new platforms (30,000 – 50,000 BPD each), the SCADA and the telecommunication systems and for the modifications and improvement of the existing facilities.
Jose Marine Terminal Expansion (TAEJ)
EPC for Jose Marine Terminal Expansion. It includes the construction of a new pier for ships ranging from 65,000 to 150,000 DWT, interconnection with the existing pier, pipelines, loading arms platform, new control building and loading – unloading facilities.
The new facilities have three loading arms, telescopic stairs, firefighting system, control room, O&M areas, all the facilities for ship docking and pipelines.
The platform is connected to the shore through a 36" pipeline for crude oil and a 20" pipeline for recirculation, with 7 km underwater and 1 km onshore.
Gas extension LIFT/GLEA
Basic Engineering for the modification of an existing platform to install the facilities required for a new gas injection manifold (M-UD-4-A) for three fully equipped wells. The project includes the expansion of the deck area through the design of a steel structure to be installed in cantilever.
The scope also includes the basic engineering for a 6", 12.5 kms long sub-lake line to connect the compression platform to the new manifold
MH: 306
EF-LL-77 Flow station
Basic and detail engineering for the control philosophy modification of the EF-LL-77 flow station.
Project's Phase I includes the design of new test and production headers, a new separator for handling all the facility´s production and the arrangement of the associated piping. Phase II covers the design and installation of a new compressor, a filtering system and the associated piping.
Perdernales
Pedernales oil field (20,000 BPD, two offshore platforms, FPSO and barge loading facilities) operations & maintenance.
Included site and field commissioning and start-up manuals, operations manuals, spare parts review and maintenance planning, personnel recruitment, evaluation, selection and training.
Field O&M during the field transition period from BP to Perenco, which finished in March 2000.
West Urdaneta
Engineering, operation and maintenance personnel for the main production Platform 2002 Shut Down planning and control, Shell West Urdaneta (MMP), Southern Maracaibo Lake. Among others, the main activities included:
Plant shut down activity program review

Project's WBS final version review and preparation

Project's plan activity codification

Equipment and material procurement review

Engineering review

Resources assignment to the pre Shut Down and Shut Down

Activities, resources control and report preparation
Offshore Gas Platform Revamp Chuchupa "A"
Project included the installation of production separator, sand trap, emergency shut down valve, instrumentation and utilities for an offshore gas platform.
Steam Injection Barges
Basic and detailed engineering for four Steam generation and Injection Plants mounted on barges, using water from the Maracaibo Lake.
Barges basic and detailed design.
West Urdaneta Gas Sweetening
Detailed engineering of five platforms with a total of 24 modular plants 400 TM each, including: manifolds, oil / gas / water separators, water treatment systems, stabilization plant, gas desulfurization and utilities (flare, compressed air, etc)
This facility was designed for 36,000 BBPD of crude and 31.2 MMSCFD of natural gas.
To find out more about our projects and the services we offer, contact: mary.rodriguez@vepica.com
Source:
https://geniebelt.com/blog/offshore-construction-benefits-and-struggles