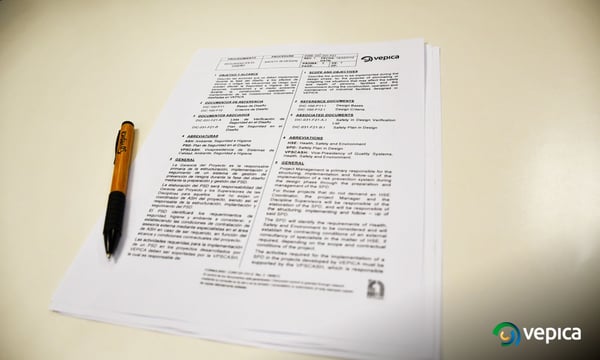 Safety is an area that receives primary attention in Vepica. It is for this reason that a Safety Plan in Design (SPD) has been established for developing projects.
The purpose of this SPD is to describe the actions that must be implemented during the design phase, in order to eliminate or mitigate situations of risk that may affect the Safety and Hygiene of people, facilities and the environment during construction, operation and maintenance of industrial facilities designed in Vepica.
At the same time, the SPD identifies the safety, hygiene and environmental requirements that must be considered, and because of this, there are several basic objectives, such as:
Identification of the laws and applicable regulations as well as the necessary p

ermits for the construction phase, startup and operations based on VEPICA's and the Client's standards and the conditions indicated in the request for services.
Identification of the specifications, standards (National and International) applicable to the project based on VEPICA's and the Client's standards and the conditions indicated in the request for services.
Creation of a methodology and structured framework that permit the development of the project in strict compliance with current HSE laws and regulations.
Establish efficient communication with the Client in order to identify and assess risk situations, in addition to deploying any additional Client specific requirement.
Facilitate interaction with specialized consultants and coordinate the review and risk assessment for the project, when so stated in the contract.
The design verification must be a continuous activity during the development of the engineering, carried out by document tracking, as well as the registration, traceability and distribution of documents and activities identified in the SPD.
Accordingly, at the beginning of the project, and during its development, items that are considered to require attention with regard to HSE are identified. Likewise, discussion and updating of aspects related to HSE in design will be included in the agenda of the project´s follow-up and control meetings.
To know more about our projects and the services we offer, contact: andres.pulido@vepica.com