Advanced inspection technologies provide innovative solutions to Integrity Projects and Non-Destructive Testing inspections.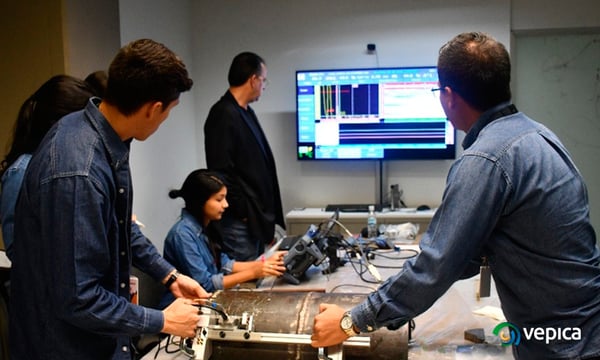 Engineers from Vepica's inspection unit receiving training in TOFD and PAUT Techniques
Vepica's Inspection Unit has managed to stay on the cutting edge in the QA / QC (Quality Assurance and Quality Control) phase through the application of Advanced Non-Destructive Testing Techniques PAUT (Phased Array Ultrasonic Testing/) and TOFD (Time of Flight Diffraction), collaborating in the execution of EPC projects.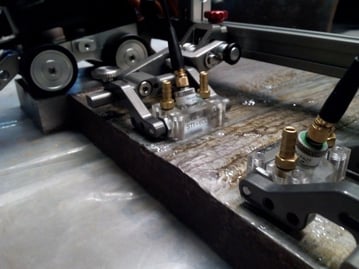 The difference between PAUT and TOFD lies in the response of the physical principle (Ultrasound) that generates any discontinuity in the material. PAUT is based on the reflection of an ultrasonic wave and TOFD is based on the response of the diffracted wave at the tip of an indication.
This difference is a fundamental factor in the evaluation of indications whose orientation is difficult to detect using other techniques: mainly cracks in welded elements. An outline of the technique can be observed in Figure 1.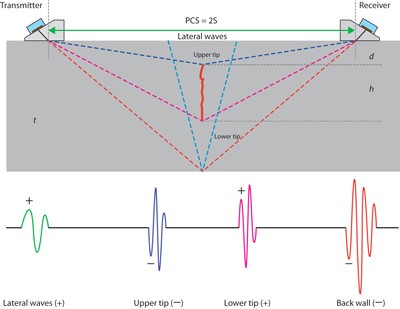 Figure 1. Diffraction pattern in a butt weld with an internal defect (crack). (Time-of-flight diffraction pattern of a butt-weld joint with an internal longitudinal crack)
The advantages of PAUT and TOFD techniques, with respect to conventional techniques, are their versatility, their detection capacity and the cost-benefit ratio associated with the reduction of down-time during execution. These technologies can be applied in various industries: aerospace, power generation, petrochemical, metal fabrication, construction and maintenance, as well as in the manufacturing industry in general.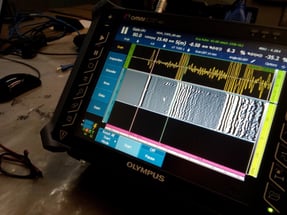 2 years ago, Vepica's Inspection Unit acquired specialized equipment and accessories (Olympus OmniScan MX2) and has been implementing these advanced techniques on a national level, executing trials on the Jusepín (Vepica) project and for the Oxiteno Company (Zulia State). With the recent training of five inspector engineers from the Inspection Unit, Vepica is able to offer PAUT and TOFD services to the Latin American market and for EPC projects currently in execution.
To learn more about the services offered by Vepica's Inspection Unit contact: carlos.pinero@vepica.com